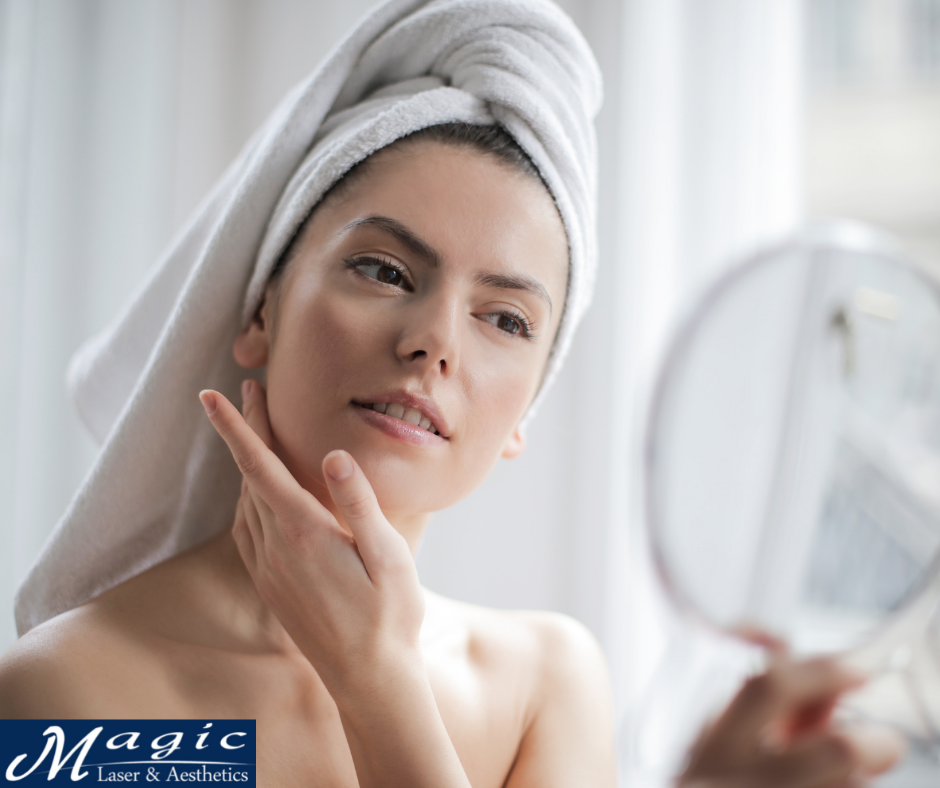 Holiday Skincare Tips To Look Good Despite the Toronto Weather
We know that in December comes holiday photos, some dinners, and just an overall feeling of wanting to dress up and feel and look our best.
However, that harsh Toronto winter weather can often dry our skin or make it appear lackluster.
Fret not, we have put put together some key holiday skincare tips for our Toronto peeps.
The Basics
Are you doing the basics? That means, do you have a solid skincare regime? That is something you need to do first and foremost. Ensure that you are regular cleansing, moisturizing your skin and adding any necessary serums or treatments depending on your skincare concerns. Follow our skincare regime tips here. 
Seasonal Switch-Up
Now, let's talk a simply holiday skincare tip – switching things up seasonally. One of these things is your moisturizer, actually… especially your moisturizer.
As the weather changes to more drying and cold snaps, it's important to keep your skin hydrated. In the winter months, this means getting a deeper moisturizer with more skin-quenching ingredients to keep the exposed skin still hydrated and prevent it from drying and flaking. Therefore, seasonally switch to a stronger moisturizer is key.
It's also a good idea to add a hydrating serum into your routine. Something that contains hyaluronic acid. This offers plumping of the skin as it maintains the skin's moisture and draws it in.
At Magic Laser and Aesthetics in Toronto, we can help put together a recommendation of products that would work best for your skin. Contact us directly to do so. 
Your Professional and Necessary Skincare for Winter
Beyond cleansing and moisturizing, it's inevitable that to remove the dead skin cells, to rejuvenate tired skin, or to get your skin glowing, there are some treatments that would greatly help. Both of the following are perfect for the holiday season!
ETwo
View this post on Instagram

The incredible eTwo Device is Syneron Candela's most advanced device. It is both a non-ablative laser and a non-light based treatment. It gives a complete facial rejuvenation with both the Sublime and Sublative handpieces, which will leave your skin feeling like new.
What can the eTwo device treat?
– Acne scars
– Brown spots
– Wrinkles
– Fine lines
– Large pores
– Stretch marks
– Hyperpigmentation
– Skin Laxity
– Skin Texture
Laser Skin Rejuvenation
View this post on Instagram

This is a gentle laser treatment. It is a non-ablative, non-invasive procedure, the epidermal layer is not even removed. Instead the laser light treats the surface of the skin and penetrates beneath the skin by using dual wave lengths.
What can laser skin rejuvenation treat?
– The shorter wave length treats surface skin pigmentation irregularities such as age spots, freckles, or rosacea
– The longer wave length penetrates beneath the skin to get rid of broken blood vessels, and stimulate collagen
– Reduces fine lines around the eyes, mouth and on the cheeks
– Reduces deep lines around the face
– Removes some shallow scars
– Tightens the skin
By doing some or all of the above, you will have glowing skin, no matter how cold it is outside.
---
At Magic Laser and Aesthetics, we specialize in facial treatments and skin care. We are able to review your skin and suggest the treatments and products best suited for your skin health, skin goals, including antiaging.
Contact us for a consultation.
For more skin care tips and suggestions on aesthetics services, follow us on Instagram
Magic Laser and Aesthetics has received some awards from Toronto Star Readers' Choice 2021: Diamond Awards (first place) for Laser Hair Removal, Laser Skin Rejuvenation, and Facial Service!! We also won a Platinum Award (2nd place) for Overall Service!